I have been making these bars for years. In fact they have been served at pot lucks, picnic's baby showers, birthdays and weddings. I love making them because of how easy they are to prepare. And who doesn't like caramel? If you are like me and can't eat pecan's, you can still enjoy these sinful delights.  I have substituted cashews, almonds, walnuts and even peanuts in this recipe and no matter what you decide on it will be a hit!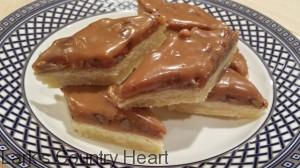 Because these are on the rich side of sweet, you will want to cut them into smaller size pieces. This recipe is made using a 9×13 pan, and it will yield approximately 3 dozen pieces.

Caramel Pecan Bar's
Crust~
1 Cup Powdered Sugar
2 Cups All Purpose Flour
2 Stick's Butter~ cut into pieces
2 TBSP. Whipping Cream
Filling~
48 unwrapped Caramels
2/3 Cup Whipping Cream
1 Cup Chopped Pecan's
Preheat oven to 350
In a mixing bowl combine all the crust ingredients. Mix on low speed for 1 minute. Then increase speed to blend ingredients together until they make a stiff dough. Press this into a sprayed and parchment lined 9×13″ pan evenly. Bake for 25 minutes or until they are golden brown along the edges of the pan. Let crust cool completely in pan.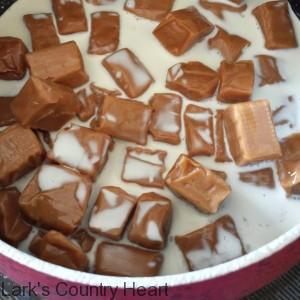 In a small sauce pan place the unwrapped caramels along with 2/3 Cup whipping cream. Over med/low heat constantly stirring until all is smooth and melted. Remove from heat and stir in nuts. Let cool for at least 15 minutes before pouring over the cooled crust.
Let caramel set and cool for at least 1 hour before cutting.
Simple yet very satisfying ~ Lark