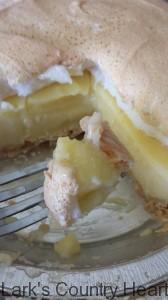 Easter Holiday is one of my top favorite holiday's. With all the new beginning signs of "life",  it makes me a little emotional. I love knowing that everything in this life has a second chance…or third, fourth, fifth…. That is the gift of Easter.  I love having my daughter home on Spring Break, being able to spend the day with her. It amazes me how much she has grown up. She always makes me smile and laugh. She tells the lamest jokes (that being said with all the love in my heart!) but she does it in a way that makes you laugh!

As if they are the funniest thing in the world and laughs so hard she cries. YUP, I LOVE this child!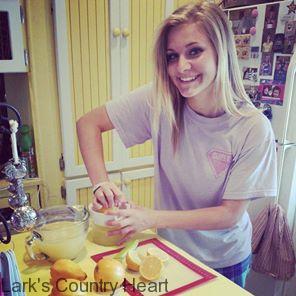 So while we were home together we decided to give "new life" to some old lemons. We decided to make Homemade Lemon Meringue Pie! ~ Nothing better than homemade lemon pudding in my book. Of course I enlisted the help of my daughter. She is not just a beauty…she has brawn too

For this recipe you will only need a half a cup of fresh squeezed lemon juice, I just didn't tell my daughter we were making (4) pies plus some extra pudding. Good Help is hard to find, so when you have it you take full advantage of every single minute!
Lark's Lemon Meringue Pie
~Filling
11/2 Cup Sugar
1/2 Cup Cornstarch
1/8 teaspoon Salt
4 Egg Yolks~ reserve whites
1 3/4 Cup Milk
1/2 Cup Fresh Lemon Juice
3 TBSP. Butter
1 teaspoon Fresh Lemon Zest
1 (9 inch) Baked Pie Crust ~ I use My Cream Cheese Pie Crust Recipe
~Meringue
6 Egg Whites~ use the 4 from the filling plus 2 more
1/2 teaspoon Cram of Tartar 1
/2 Cup Sugar
1/2 teaspoon Vanilla  
Start by whisking together the sugar, cornstarch  and salt in a med. saucepan. Add in the egg yolks, milk and fresh lemon juice. Heat over medium high heat, stirring constantly until thick. Cook for 1 minutes as it comes to a boil. Remove from heat and stir in butter and zest. Let it cool for a few minutes before pouring into your prebaked pie shell. While filling is cooling, you can make the meringue. You will need to place the egg whites and cream of tartar into a large metal mixing bowl. I use my handy dandy Kitchen Aid Mixer Beat on medium for a minute or so to get it nice and frothy. Then raise the speed to high, add vanilla then slowly add in the sugar a tablespoon at a time. Continue beating on high until it becomes stiff. Spread over entire pie, making sure to go all the way to the edge of the crust with the meringue to "seal" the pie. Bake in a preheated oven of 325 degree's for 22-25 minutes or until the meringue is a golden brown.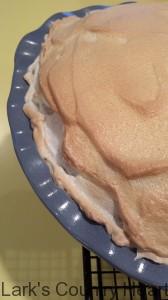 Let pie cool completely on a wire rack, then chill until ready to serve. I swear that if you can resist eating it right away that the pie tastes better if you will allow it to chill overnight before serving it. And if you cant wait….well I promise you it wont disappoint either way!
Happy Easter, and take time to enjoy the new life happening around you.~ Lark

Print Friendly