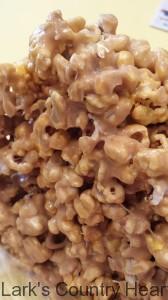 Have you ever wanted something sweet & salty ? Soft & Chewy? Well look no further for a FAST and simple treat ….you just found it! I promise once you make this Salted Caramel Popcorn it  is going to be a new family favorite treat. 
Salted Caramel Popcorn
1 Cup Butter
2 Cups Brown Sugar
1/4 Cup Corn Syrup
1 teaspoon Vanilla
1 1/2  teaspoons Salt
1 1 (10 oz.) Large Marshmallows
32 Cups Popped Popcorn*
*2-3 packages of Microwave Popcorn, plain, popped
In a large bowl place the popped popcorn, with the un-popped kernels removed. Set aside.
In a large saucepan place the butter, brown sugar, corn syrup, vanilla and salt. Stir over medium heat until the sugar dissolved. Then add in marshmallows, stir until they are completely melted. Pour over the popcorn, stir well until evenly coated.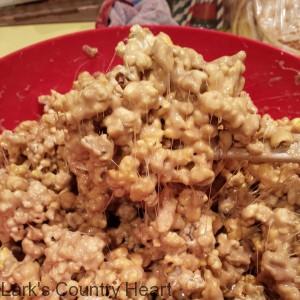 Now go ahead and dive right in! (On the off chance you still have any left over, make sure to place it in an air tight container. That way it it stays nice and chewy) Enjoy, Lark

Print Friendly