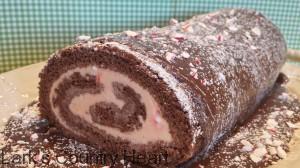 The Yule Log is a symbol of Prosperity & Wealth, well at least that is how the tradition goes. My Yule Log is a mixture of winter flavors. Peppermint Ice cream rolled between layers of decadent Chocolate Cake, topped with a silky smooth chocolate sauce. A dessert to impress.
You are gonna want to make two of these….one for you and one to share. 😉
Ice Cream Yule Log
Cake~
1 Cup All Purpose Flour
1/4 Cup Cocoa
1 teaspoon Baking Powder
1/4 teaspoon Salt
3 Eggs
1 Cup Sugar
1/3 Cup Water
1 teaspoon Vanilla
1/2 Quart Vanilla Ice Cream~ softened
1/2 Cup Crushed Candy Cane's
Preheat oven to 350
Sift together the flour, cocoa, baking powder and salt. In a separate bowl beat together the eggs and sugar. Combine the two together and mix until smooth. While mixer is beating slowly add in the water and vanilla. Continue mixing for 1 minute. Spread evenly into a wax paper lined sheet pan. Bake for 12 minutes. While cake is baking, place a thin towel (the same size as your baking sheet) on the counter and sprinkle with powdered sugar. When cake is baked, turn out immediately onto the towel and sprinkle with more powdered sugar.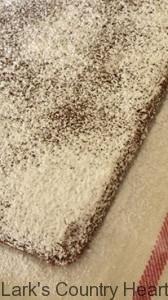 You will now need to Roll the cake roll up while it is hot. Set the cake into the fridge to cool down. While cake is cooling, stir the crushed candy canes into the softened ice cream. Carefully unroll the cake and spread the ice cream onto the cake.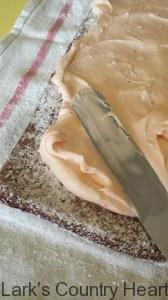 Here is the hard part….waiting for it to firm up enough to serve. I like to place it in the freezer over night. The next day, you can make up this easy Chocolate Sauce to pour over top of the yule log before serving.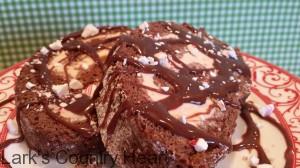 MERRY CHRISTMAS!


Print Friendly