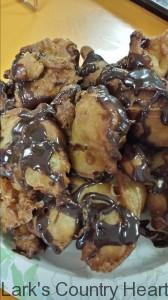 If you have never had the privilege to taste Zeppole's
you have been missing out.
These little Italian doughnuts, are a cross between the dough of a cake doughnut and the pastry dough of a cream puff. Serve them warm with chocolate sauce, fruit jam or with powdered sugar you can not go wrong.  Put a smile of your loved ones face and make a batch of these this coming weekend. On second thought you might want to double the batch.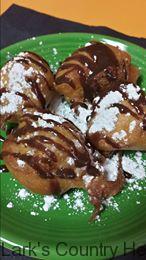 Homemade Zeppoles
1 Stick Butter
1/4 Cup Water
1/4 Cup Sugar
1/4 tsp. Salt
1 Cup All Purpose Flour
4 Egg's
* Oil for Frying
*Toppings~ Chocolate Sauce, Jam, Powdered Sugar
In a medium sized sauce pan, combine the butter, water, sugar and salt. Bring to a boil for 1 minute. Remove from heat and add in flour, stirring quickly with a wooden spoon until all is incorporated. Place back on heat, stirring continuously for another 2 minutes. Place mixture into your mixing bowl using the universal attachment. Turn on medium speed, adding in 1 egg at a time turning up the speed to blend. Repeat this process until all eggs are blended. Place dough in fridge to chill for 30 minutes. While dough is chilling you can slowly heat the oil. Using a cookie dough scoop, carefully drop 6-8 scoops of dough into hot oil. The dough will float to top, you need to make sure to cook them evenly by turning them often. They will need to cook for 3-4 minutes each. Drain excess oil off by placing them on a paper towel. Serve Hot with desired toppings.
Making memories that will last~ Lark

Print Friendly