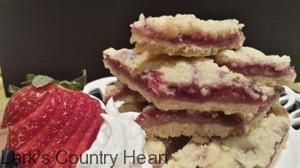 Sometimes it is the simple things that can make an ordinary day into extraordinary. I feel making a homemade treat for my family, friends, neighbors can not only make their day brighter  but mine as well.  Put a smile on their faces with these delicious bars. Seeing how I ALWAYS have Cream Cheese on hand, making these bars gave me an excuse to use some of it up.
Strawberry Cream Cheese Bars
Crust:
2 Sticks Butter~ cold/cubed into pieces
2 Cups All Purpose Flour
1/8 tsp. Cinnamon
Filling:
2 (8oz.) Cream Cheese~ softened
1/2 Cup Sugar
2 Eggs
1 tsp. Vanilla
1 Cup Strawberry preserves ~ melted
Streusel:
1 Cup Flour
1 1/2 Cups Powdered Sugar
1 1/2 Stick's of Butter~ cold/cubed in pieces
Preheat your oven to 350 degree's Combine all the crust ingredients together and blend with a pastry blender. Press this into a lightly sprayed and parchment paper lined 9×13″ pan. Bake on the center rack in the oven for 15 minutes. Allow the crust to cool completely before adding the filling. While crust is cooling in a mixing bowl combine the cream cheese and sugar. Beat until creamed together. Next add in the eggs and vanilla, continue to beat until smooth. Spread this over the cooled crust evenly. Then pour the melted preserves over the cream cheese layer. Set aside and mix your streusel topping. Combine all the streusel ingredients, blending with a pastry blender. Sprinkle evenly over the entire pan.  It will appear that there is to much topping, however it will settle a little into the filling as baking. Use all the streusel! Return back to the oven and bake for 35 minutes. Let the bars cool completely before you cut into bars.  I like to serve it with a dollop of cool whip and fresh strawberries.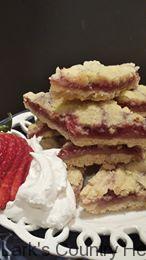 ~Simple and Sweet, Lark

Print Friendly