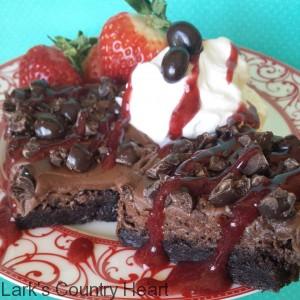 While on our family vacation to California, one of my most favorite places to visit was Ghirardelli Chocolate Factory. I mean really, who wouldn't want to go there? Of course I came home with a bag full of chocolate. One of the items I had picked up was their Chocolate covered Espresso Beans. Oh My Heck…..DANG GOOD! (Now if you are not a Coffee fan, you can still make these fabulous brownie's! Just substitute the Espresso beans with chocolate covered peanuts or toffee pieces) I will warn you that these are VERY RICH, so you can cut them in smaller pieces and be totally satisfied.  I also drizzled these with my  Homemade Strawberry Pomegranate Syrup To kick it up a notch. I highly recommend you do the same…DIVINE!
Triple Chocolate Espresso Brownie's
1 Cup Butter
1 (8 oz.) Milk Chocolate Bar~ chopped
6 oz. Unsweetened Chocolate~ chopped
2 Cups Sugar
4 Egg's
2 TBSP Vanilla or Cold Coffee
1 1/2 Cups All Purpose Flour
1/2 tsp. Baking Soda
1/4 tsp. Salt
1 (12 oz.) Mini Semi Sweet Chocolate Chips
1/2 Cup Chocolate Covered Espresso Beans~ chopped
**Chocolate Frosting~ whatever is your favorite recipe
Preheat oven to 350
In a double boiler combine butter, milk chocolate bar, unsweetened chocolate as well as the mini chocolate chips. Cook and stir over low heat until melted and smooth. remove from heat to allow to cool for a few minutes. Then add the sugar and vanilla into the melted chocolate  stir to combine. Next add egg's in one at a time, whisking until smooth. In a small bowl sift together the flour, baking soda and salt. Add to the chocolate mixture, do not beat. Mixing only until all ingredients are incorporated. Fold in the chopped espresso beans. Spread evenly into a parchment lined and sprayed 9×13 pan. Bake on center rack for 30-38 minutes. Test with a toothpick in the center to make sure it is cooked through. Cool completely in the pan before frosting. Serve with a added chopped espresso beans.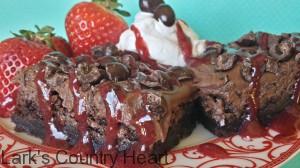 Sinfully delicious~ Lark

Print Friendly