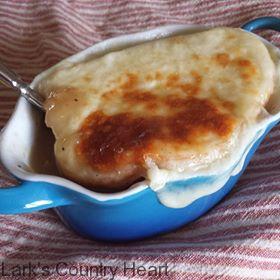 French Onion Soup is my all time most favorite soup to eat. That being said, I will only order it in a select few restaurants when I go out to eat. Because NOT ALL French Onion Soups are the same! I like them to have a thicker "body" to them, rather than thin. I want to taste the onion flavor not have it drowned out with a overpowering broth. I guess you could say I am a French Onion Soup Snob! (lol) One day as I was working,(I work part time in our home town grocery store in their Produce Department) I saw that we received a shipment of sweet onions. Well heck, I KNEW I had to grab a few before they sold out. Brought them home and decided I needed to come up with my own French Onion Soup recipe.  Since that day, I have made this soup (3) more times…..and I am the only one in the house that will eat it. It Is THAT GOOD!
French Onion Soup
5 Sweet Onion's~ thinly sliced
1/3 Cup Butter
1/4 Cup All Purpose Flour
3 (15 oz.) Beef Broth
2 TBSP. Powdered Beef Bullion
2 Cup Water
2 TBSP. Corn Starch
1 tsp. Black Pepper
6 Slices French Bread~ sliced thick
6 Slices Provolone Cheese
6 Slices Swiss Cheese

In a large Dutch oven combine the sliced onion, butter and pepper.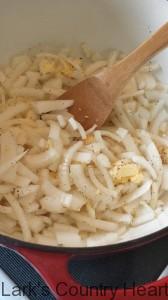 Cook over medium heat until onions are translucent and tender.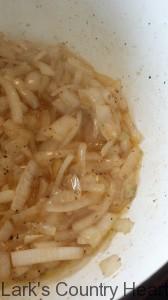 Stir in Flour until blended. Add in broth, bullion and let it come to a full boil. In a small bowl combine the water and cornstarch together, pour into the boiling mixture while whisking. Turn heat to simmer and continue cooking for 30 minutes.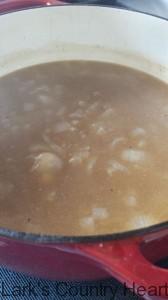 Turn oven on broil, ladle soup into 6 oven proof soup bowls. Top soup with a thick slice of French bread along with one slice of Provolone and Swiss cheese.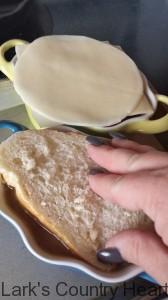 Place onto a baking sheet, place in the oven to melt cheese. Watch closely it wont take long to have the cheese melt. Serve straight from the oven.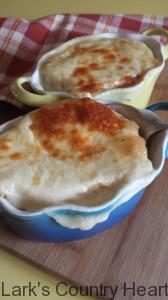 This does make about 6-8 cups of soup, so if you are like me and happen to be the only person in the house who likes French Onion Soup, you can save it in a couple of quart jars in the fridge for up to 3 weeks. (although I highly doubt it will last that long) I hope Y'all will enjoy this soup as much as I do. ~Lark

Print Friendly