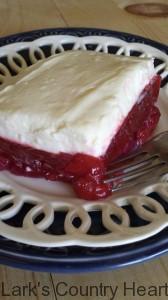 Spring has sprung….with all the new blossom's, green grass and the sounds of birds in the air, it makes me want to pack a picnic and head out to the nearest park for the afternoon. The light cool breeze in the air wont last long here in Nevada, so I like to take advantage of these days at every opportunity.  This year I wanted to make up a new dessert salad to surprise my family with. Of course I decided to go about this on a day I hand only a few ingredients in my cupboards.  It just goes to show you that can make a great dish with just the ingredients you have in your pantry. (I am ALL about Pantry Friendly Meals)
Cherry Pie Salad
1 (15oz.) Cherry Pie Filling
1 (20oz.) Crushed Pineapple
1 (6oz.) Cherry Flavored Jello
1 (12oz.) Can Sprite Soda
Frosting
2 (8oz.) Cream Cheese~ softened
1 Cup Sour Cream
3 Cups Powdered Sugar
Drain pineapple reserving juice. Measure to 1 1/2 Cups. * if needed add in Sprite to make the 1 1/2 Cup amount. Place into a saucepan along with the Jello. Bring to a boil, stirring until Jello is dissolved. Remove from heat and pour in 1 Cup of Sprite, Set aside to cool for about 10 minutes. In a bowl combine the pie filling with the drained crushed pineapple. Spread evenly into a 9×13 pan. After the Jello has cooled, pour over filling and chill for at least 3 hours or until set.  Once the Jello has set, begin mixing together all of the frosting ingredients until smooth. spread over the top of the set Jello. Chill until you are ready to serve.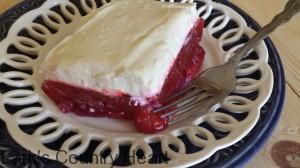 This Salad can be made 2 days ahead of time. The longer it chills the better it tastes!
HAPPY EASTER, Lark

Print Friendly