In our small town almost everyone has a garden of some size. We usually have several garden boxes growing as well. However with all the traveling we would be doing this Summer we decided not to plant them.  It was a hard decision to make, because we really enjoy fresh veggies in the hot Summer months. That being said, with all of the "green thumbs" in town it is not unusual to come home from running your errands to find a grocery bag hanging on your door knob filled with fresh grown produce. ~ Can I just say that I love seeing those bags on my door step! These Fried zucchini sticks are crisp, crunchy and full of flavor. You wont have a hard time using up all that zucchini.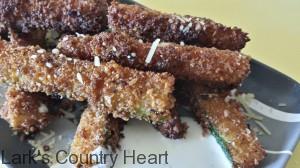 Fried Zucchini Stick's
3-4 Medium size Zucchini
3 Eggs~ beaten
2 Cups Panko Breadcrumbs
1/2 tsp. Garlic Salt
1/2 tsp. Onion Powder
1/2 tsp. Salt
1/4 tsp. Smoked Paprika
Heat oil in a cast iron skillet on medium heat. This is where I kicked it up a notch in flavor town. I had some bacon grease in the fridge just begging to be used…..so of course I fried my stick's in bacon grease! Cut the zucchini length wise into quarters. In a shallow dish place the beaten egg. in another dish mix the remaining ingredients together. Dip squash into the egg and then roll into the bread crumb mixture.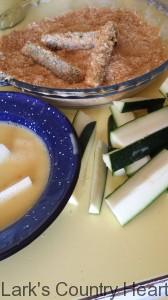 Place into heated oil, fry even on all sides. * Watch the temperature of the oil carefully, because one the cast iron skillet heat up, it continues to get hotter and hotter. You might need to turn down the heat as you fry.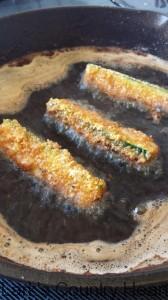 Place fried sticks onto a paper towel lined plate to drain off any excess oil. While they are still hot, sprinkle with sea salt and parmesan cheese if desired. Serve warm with Ranch dressing. ~ Lark

Print Friendly