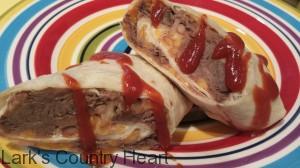 I'm getting back into the swing of things now that school has begun. With juggling my work schedule, my daughters school and sports schedule, as well as my husbands work routine, some days get a little chaotic. On those such days I reach for these fast and easy Beef and Bean Burrito's. You can use any leftover roast beef or ground beef you have might have. These are flavorful as well as filling. **Bonus that these are freezer friendly for up to 3 weeks!  
Beef and Bean Burritos
1 lb. Cooked Shredded or Ground Beef
1 (15oz) Refried Beans
8 Flour Tortillas
2 Cups Cheddar Cheese, shredded
*Toppings~ Sour Cream, Onions, Spanish Rice,Salsa 
Start by heating up your meat and beans. Once they are both warm, start layering. I like to place the flour tortilla on a flat surface spreading on the beans first, then sour cream. In the center of each tortilla add your meat, cheese, and any other toppings you desire. *If you are planning on freezing them, I recommend you refrain from adding fresh lettuce or tomatoes. They will become a soggy mess when you thaw and reheat them later.  To fold, I like to start on the sides (right and left) folding 1/4 of the way. Then take the bottom of the tortilla and fold over the row of filling, tucking the tortilla under filling. Continue rolling to the top.  They are ready to serve!  For freezing~ Place seam side down onto a piece of plastic and wrap tightly. Place wrapped burritos into a freezer safe plastic bag, these will keep in the freezer for up to 3 weeks. 

Print Friendly