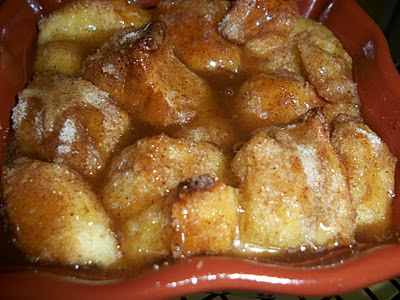 I'm bringing back an old time favorite…Bread pudding! I can remember my Grandma serving this cold with evaporated milk poured over the top. I put my twist on this favorite and boy oh boy is it delicious.
Lark's Country Simple Bread Pudding
10-12 Slices of day old bread (torn or cut into pieces)
1/4 C. Butter – melted
1 tsp. Cinnamon
1/4 tsp. Nutmeg
3/4 C. Sugar- divided
6 Eggs, beaten
2 tsp. Vanilla
1/2 tsp. Salt
3 C.  Whole Milk
*Optional 1/2 c. Raisins or Chocolate chips*
Preheat oven to 375
Place torn bread into a large bowl. 
Pour the melted butter over bread, toss to cover all the bread.
Next mix together 1/2 C. of the sugar, cinnamon and nutmeg.
Stir that into the bread to coat all the bread.
Place bread/sugar mixture into a 9×9 pan.
Beat together the eggs, vanilla, milk and
 remaining sugar until the sugar is dissolved.
Pour over the bread and let "soak" for 15 minutes.
*If you are adding in raisins or choc.-chips sprinkle 
them over the bread, before pouring the egg mixture on top.
Bake on center rack in oven for 30-40 minutes
or until a knife inserted into the center comes clean.
You can serve this hot or cold.
Make old memories into new ones!
Lark

Print Friendly