Oh heaven help me….these are so sinfully delicious! Y'all are going to want to make sure to hide yourself a "stash" for later.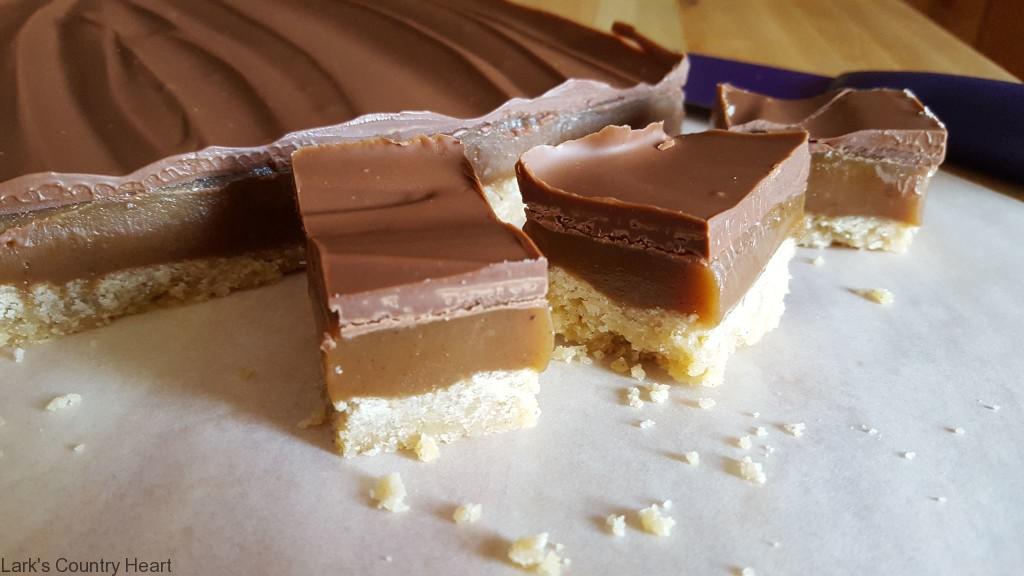 Caramel Apple "Twix" Bars 
~Caramel
2 Stick's Butter
1 Cup Brown Sugar
1/4 Cup Light Corn Syrup
1 (14 oz.) Sweetened Condensed Milk
1 teaspoon Apple Pie Spice
~Shortbread Cookie Crust
1 Cup Butter
1/2 Cup Powdered Sugar
2 Cups All Purpose Flour
1/8 teaspoon Salt
1/2 teaspoon  Apple Pie Spice

~ Chocolate Layer
1 (12 oz.) Milk Chocolate Chips
3 Tablespoons Shortening
Preheat oven to 350
Start by making the cookie crust. Mix together the flour, powdered sugar, salt and apple pie spice. Stir in melted butter. Press mixture into a 9″ x 13″ pan that has been greased and lined with parchment paper that has also been greased. I like to pierce the crust with a fork to help it cook evenly.  Bake for 22-28 minutes. Let crust cool completely. While crust is cooling you can make your caramel layer.  In a large saucepan stir together the butter,sugar,  corn syrup, condensed milk and apple pie spice. Bring mixture to a full boil for 5 minutes. Stirring constantly. Let the caramel set until the cookie crust is cooled. Then spread evenly over crust. Let set up for 30 minutes. In a microwave safe bowl combine the chocolate chips and shortening. Heat in 1 minute intervals, stirring in between until melted. Spread over cooled caramel. I like to then let it chill for at least an hour before cutting into small bars. *Use a warm knife to cut through the chocolate and caramel with ease.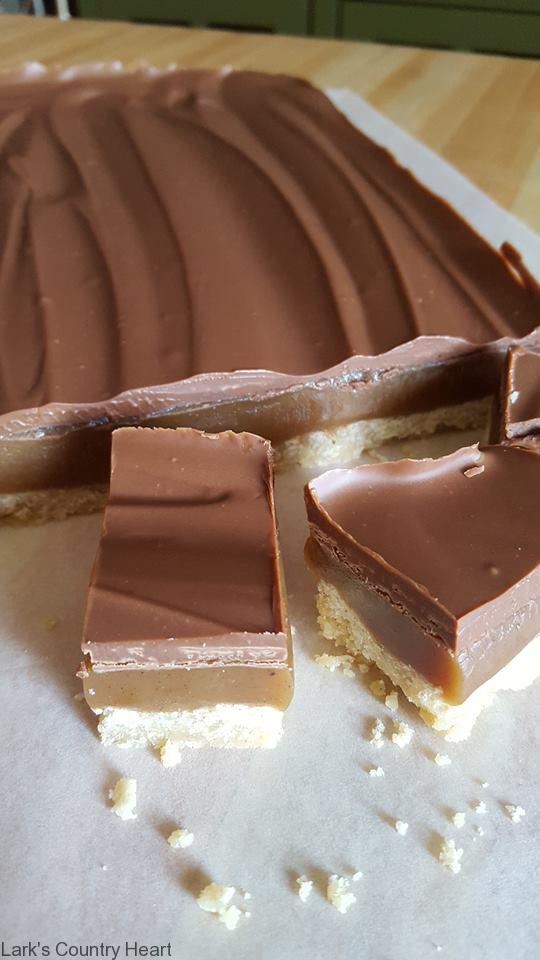 Happy Baking, ~ Lark

Print Friendly