I have this habit of every time I go grocery shopping, I feel the need to buy banana's. This being said, I usually end up with too many sitting on my kitchen island getting brown spots. And I am one that likes my banana's very firm with no spots in sight.
So I knew I wanted to make something with them other than banana bread.
What's better than CAKE? This cake is so moist and packed with banana flavor in every bite.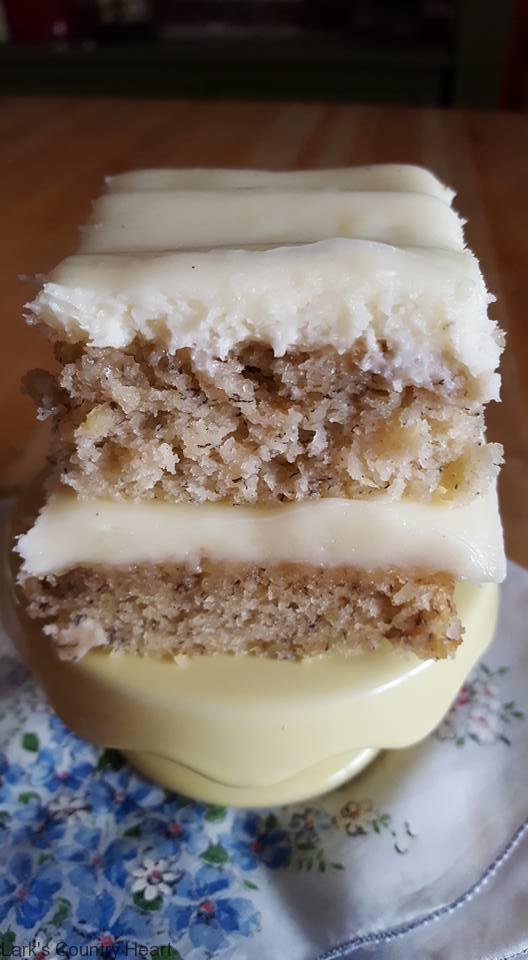 Banana Ice Box Cake with Vanilla Bean Cream Cheese Frosting 
1 1/2 Cups Mashed Fresh VERY RIPE Banana's
1 1/2 teaspoon Baking Soda
2 teaspoons Lemon Juice
3 Cups All Purpose Flour
1/4 teaspoon Salt
2 1/2 Cups Sugar
3/4 Cup Butter, softened
3 Egg's
2 teaspoons Vanilla
1 1/2 Cups Buttermilk
Preheat oven to 275 degree's
In a small bowl combine the banana's, lemon juice and baking soda together. Sift together the flour, salt and sugar, place into mixing bowl.  Pour the buttermilk, eggs, vanilla and buttermilk into the dry sifted ingredients, mix together. Lastly add in the banana mixture to the mixing bowl, mix well for 2 minutes. Pour batter into lightly greased 9 x 13 pan.
Now the trick to this cake is the cooking and cooling process. You want to bake this cake "Low & Slow" for about 1 hour to an hour and 15 minutes. Make sure the center is cooked all the way through. To cool the cake you need to make sure you have plenty of room in your freezer. You will be taking the cake from the oven straight to the freezer. I usually had it cool over night.
Vanilla Bean Cream Cheese Frosting 
2 (8 oz.) Cream Cheese, softened
1/2 teaspoon Vanilla Bean Paste
5 Cups Powdered Sugar
Beat the cream cheese along with the vanilla bean paste together for 2 minutes. Add in powdered sugar and mix until smooth.
Frost cake while frozen. Let the cake sit out for 15 minutes before cutting and serving. You can serve this cake at room temperature, however my family loved it straight from the ice box.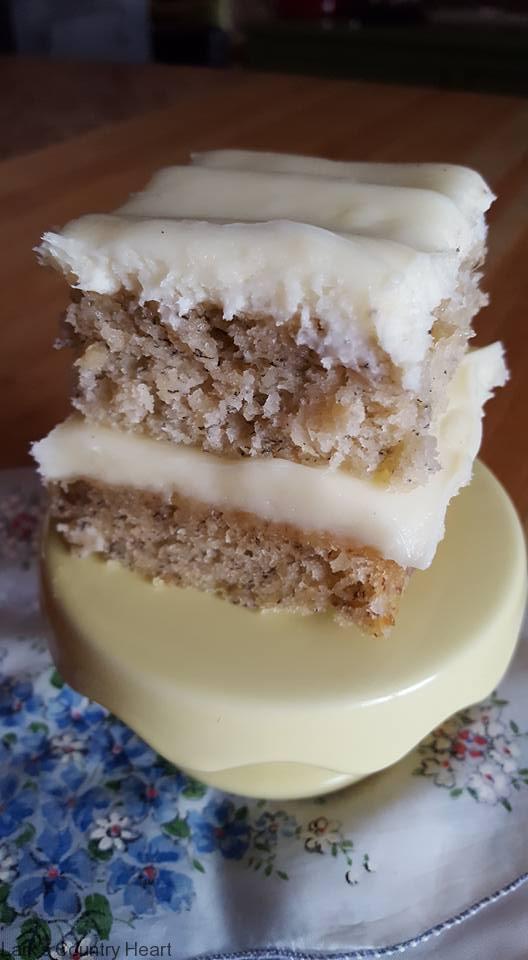 I cant wait for you to taste just how amazing this cake is.
Celebrate everyday with Cake! ~ Lark

Print Friendly