I love spending time with friends. I just wish I had more time to do it. Well this last weekend I had scheduled to stay a few days with one of my best friends. They are the type of friends that make staying at home to watch a movie… FUN! Her husband is a great cook. We talk food recipes often and had decided that when I was there, we would make Chicken Marsala. (neither of us had made it before )  It was so EASY to make, plus delicious. Y'all are going to want to try this out ASAP.
*If you do not want to cook with the Marsala Wine, you can substitute it with 2 Cups of Chicken broth.
Easy Chicken Marsala 
8 oz. Fresh Mushrooms, sliced
4 Lg. Chicken Breasts, boneless & skinless
2 Tablespoons Garlic, minced
1/4 Cup Butter
1/2 Cup Olive Oil
1/2 Cup Heavy Cream
2 Cups Marsala Wine *or Chicken Broth
1/2 teaspoon Black Pepper
1/4 Cup Parmesan Cheese, grated
Seasoned Panko Bread Crumbs
16 oz. Cooked Angel Hair Pasta
Italian Parsley, chopped
Butterfly cut the chicken breast, and flatten. Dip into bread crumbs. In a large skillet fry chicken in olive oil. Let chicken drain on paper towels. Once all the chicken has been cooked, add in the butter, garlic and mushrooms. Saute for 3-5 minutes. Then add in wine, and heavy cream, stirring to thicken. Reduce heat to a simmer. Add chicken back into the pan, sprinkle with pepper and cheese, cover and let simmer for 30 minutes.  Serve over a bed of cooked Pasta, sprinkle with fresh Italian parsley if desired.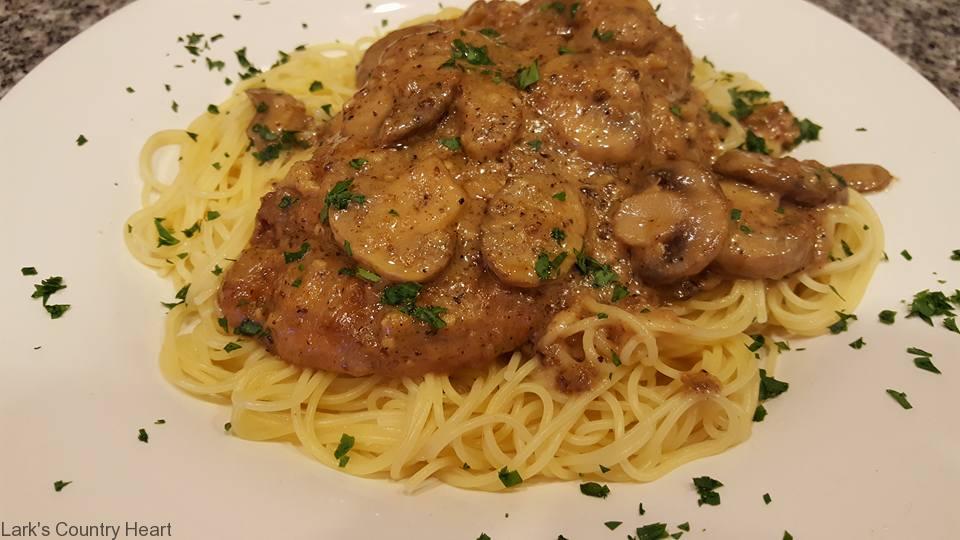 Perfect dinner to serve to  friends or family.
~Lark

Print Friendly