When I am in town doing my many errands, I make a point to get one of my all time favorite sandwiches.  Beef-N-Cheddar's! Every time I order one I think that was one expensive sandwich….and seriously I love these sandwiches not because of the beef, it's all that wonderful tangy, spicy, sweet sauce combination I drown the sandwich in.  That got me to thinking….Why not make my own Beef -N- Cheddar's along with that famous sauce?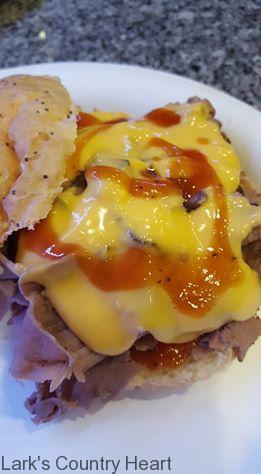 Now depending on how many sandwiches you plan on making, you will need to add more buns and roast beef to the amounts in the recipe. This recipe will make enough for 4 sandwiches and 2 Cups of sauce.
Homemade Beef-N-Cheddar's with Homemade "Arbys" Sauce 
1 1/2 lbs. Deli Roast Beef, shaved thin
4 Onion Rolls
2 Cups Cheese Sauce, (I like to use Nacho Cheese sauce)

Homemade "Arbys" Sauce 
2 Cups Ketchup
4 Tablespoons Apple Cider Vinegar
1/4 Cup Water
1 teaspoon Onion Powder
1 teaspoon Garlic Powder
1/2 Cup Brown Sugar
1/2 teaspoon Black Pepper
1 Tablespoon Tabasco Sauce
In a sauce pan combine all the ingredients , whisk until sugar is dissolved. Remove from heat.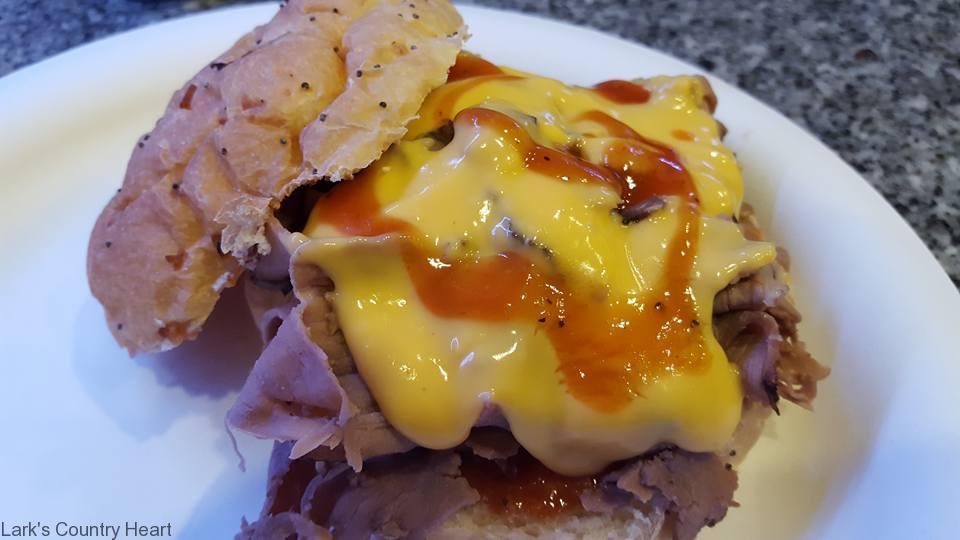 To assemble these sandwiches, start by heating up the cheese sauce and  shaved roast beef to your desired temperature. Slice the onion rolls, spread the sauce on both sides of the bun. Load it with roast beef, add cheese and top it off with more sauce. OH MY FLIPPING HECK…. YOU ARE IN HEAVEN! 

Print Friendly