Nothing says I love like a warm Homemade Yeast Doughnut covered in icing…. at least to me that sounds like love! 🙂
These Homemade doughnuts are so soft and yummy, you might want to go ahead and double the batch.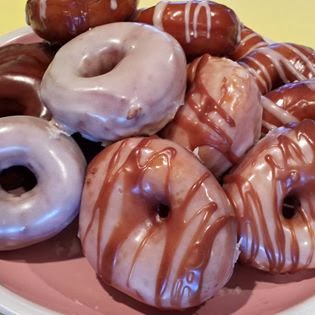 Homemade Doughnuts
*This will make 3 1/2 dozen  doughnuts*
4 Large Russet Potatoes ~ peeled/diced
1 tsp. Cinnamon
1/2 tsp. nutmeg
2 Cups Milk
1/2 Cup Sugar
1/2 Cup Shortening (not butter flavored)
1/2 tsp. Baking Powder
1/2 tsp. Baking Soda
1 TBSP. Vanilla
2 1/4 tsp. Dry Active Yeast ~ (I use Red Star)
2 Eggs ~ beaten
1 1/2 tsp. Salt
1/8 tsp Cinnamon
6 C. All Purpose Flour
Boiled Icing
1 Cup Boiling Water
2 lbs. Powdered Sugar
4 TBSP. Butter
4 TBSP. Vanilla (or Maple, or Cocoa)
Start by placing your  potatoes
in a medium sauce pan, add the cinnamon
and cover with water. Bring to a boil until the
potatoes are fork tender. About 15 minutes.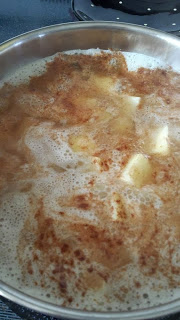 When they are ready, drain potatoes
reserving 1/2 Cup of the potato water.
 Mash the  potatoes,
(DO NOT add butter or anything else
 to the potatoes.) Measure out 1/2
Cup of the mashed potatoes.
If you have more than you need
for this recipe, you can freeze the extra
potatoes to use in another recipe.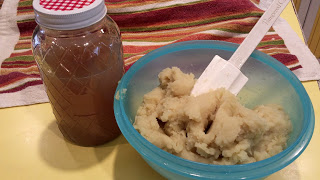 In another saucepan add together the
milk, sugar and shortening. Stir until
the shortening is melted and the sugar
dissolved. Making sure not to boil.
Remove from heat and let cool
to room temperature.
In a small bowl combine the 1/2 warm
potato water and yeast together.
Let yeast bloom for 10 minutes.
Combine the baking soda, baking powder,
1/ Cup mashed potatoes and vanilla in your
 mixing bowl. Mixing to blend.
Next add in the cooled milk mixture as well
as the yeast. On a slow speed mix together.
While mixer is going add in eggs, salt.
Along with flour a cup at a time.
The dough should be smooth, not
to sticky. Remove from mixing bowl, knead
for a few minutes. Place in a greased bowl,
cover and let rise until double in size.
Punch down dough and roll out to a 1″ inch
 thickness on a lightly floured surface.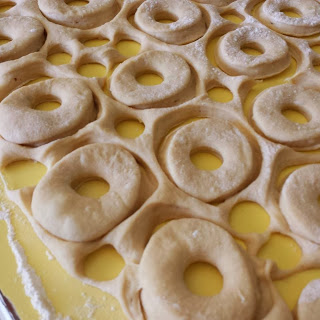 Cut into desired size. I do not re-roll the dough.
*use the extra to cut more doughnut holes.
 Let them rest for 15 minutes.
 Usually I have them rest while I start my oil heating.
By the time the oil is ready, the doughnuts are.
I like to cook the doughnut holes first, so I can
 taste a few as I go….I mean so my family can.
Now before you start the frying process
make sure you have a rack ready to place
them on to drain off the excess oil.
As well as having your icing ready
to dip the hot donuts into.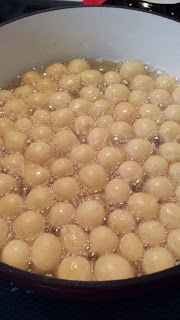 Fry until golden brown on each side.
About 1 minute each side, depending on how
 hot your oil is. *Remember to reduce the heat
on the oil as you continue frying,
 as the oil retains its heat for a long time.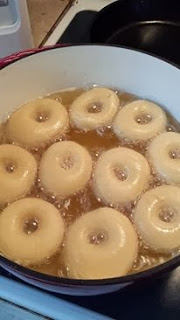 After letting the doughnuts cool for

Print Friendly