I have been holding off sharing this recipe for 1 reason….they are RICH & ADDICTIVE! Im just letting you'll know up front, you are going to wan to make these for every party, get together, bake sale and back yard bbq you will be invited to. These Devil Dogs are a not to be taken lightly. Devil Dogs consist of a large moist piece of  devils food cake, topped with a thick swirl of sweet creamy buttercream frosting….that is then totally covered in a thick rich layer of chocolate frosting. OH MY FLIPPING HECK!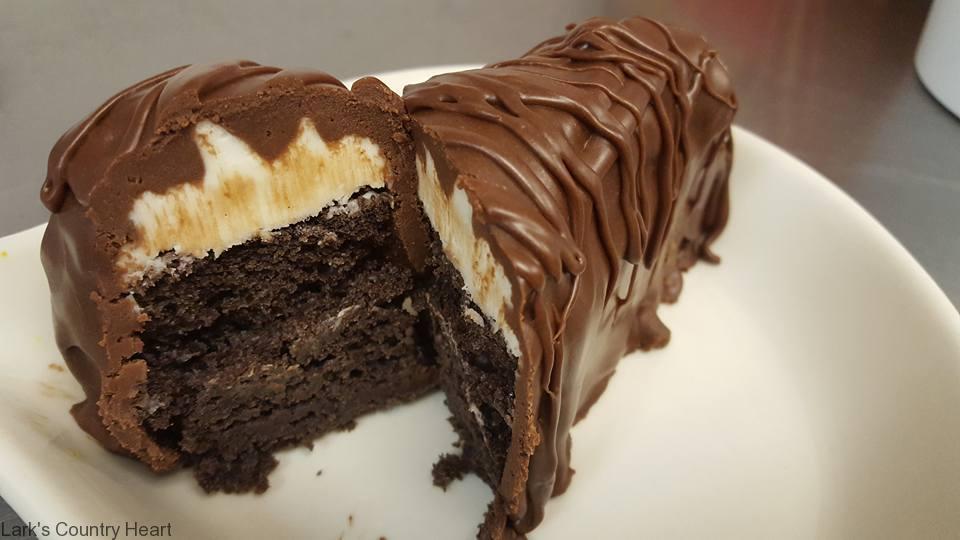 The name fits these sinfully delights…Devil Dogs are the new "vice" of every woman out there! 😉
_______________________________________________________________________________________________
HOMEMADE DEVIL DOGS

---
Cake~
1 (15 oz. ) Devils Food Cake Mix
1/4 Cup Water
1 Cup Oil
3 Eggs
1 Cup Sour Cream
Butter Cream Filling~
1 lb. Salted Butter, softened (not melted)
3-4 lbs. Powdered Sugar
3 Tablespoons Vanilla
1/4 Cup Milk

Fudge Frosting~
3 Cups Unsalted Butter, softened (not melted)
1 Cup Powdered Sugar
1 Cup Dark Cocoa Powder
2/3 Cup Hot Water
1/2 Cup Sour Cream
2 teaspoon Vanilla
1 lb. Milk Chocolate, chopped, melted
10 oz. Semi Sweet Chocolate, chopped, melted
Preheat oven to 350
Start by mixing the cake ingredients together and beating until smooth. Spread batter evenly into a 9 x 13 pan, that has been lightly greased. Bake for 28-32 minutes. Let cool, and then place in the freezer for 3 hours to firm up.
Next you will place the butter into a mixing bowl, beat on high for 2 minutes. Lower speed and add in powdered sugar 1 cup at a time. When mixture becomes to thick, add in vanilla and a little of the milk… continue until all ingredients are incorporated. Place mixture into a large pipping bag, with a star tip. Remove cake from freezer, cut the cake long wise in half. Then cut each half into 8 slices. remove each piece of cake from pan, place on a sheet pan that has been lined with parchment paper. Top each slice with a thick swirl of buttercream frosting. When all slices have been topped, place the cake back into the freezer. (I like to leave it in the freezer overnight) *You just want to make sure that the buttercream filling is frozen….because you will pouring warm frosting over top, and you dont want it to melt.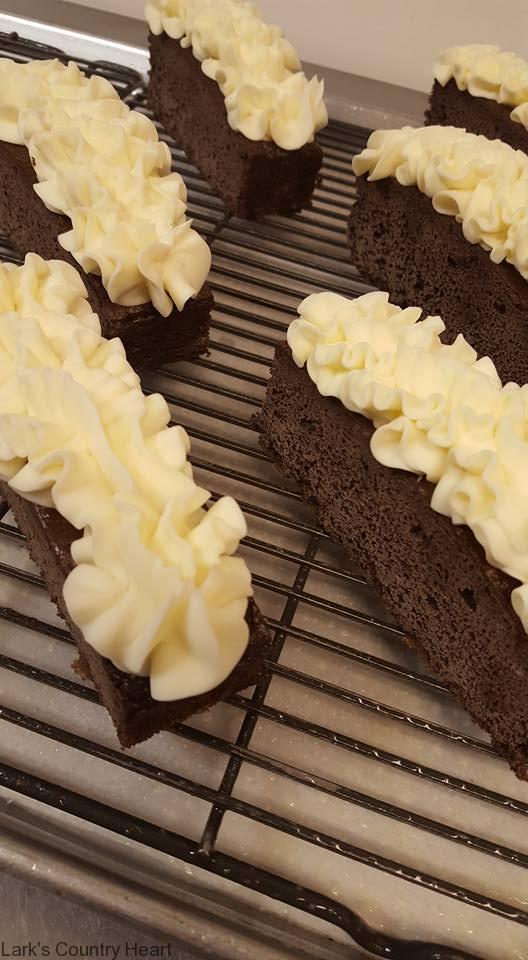 The next day, you will start by making the fudge frosting. **Now, if you dont have the time for making this frosting…..you can use that frosting that comes in the containers at the store. However it will not taste nearly as yummy!
 Beat butter on high for 3-4 minutes. Lower speed adding in the powdered sugar, cocoa, water, sour cream, vanilla, beat until incorporated. Increase t speed and beat for 2 more minutes. Slowly add in the melted chocolate beating until smooth. You will now want to place the frosting into a microwave safe dish. Heat frosting until warm and pour able.  Remove frozen cake pieces from the freezer, place onto a wire rack. Pour frosting over each piece.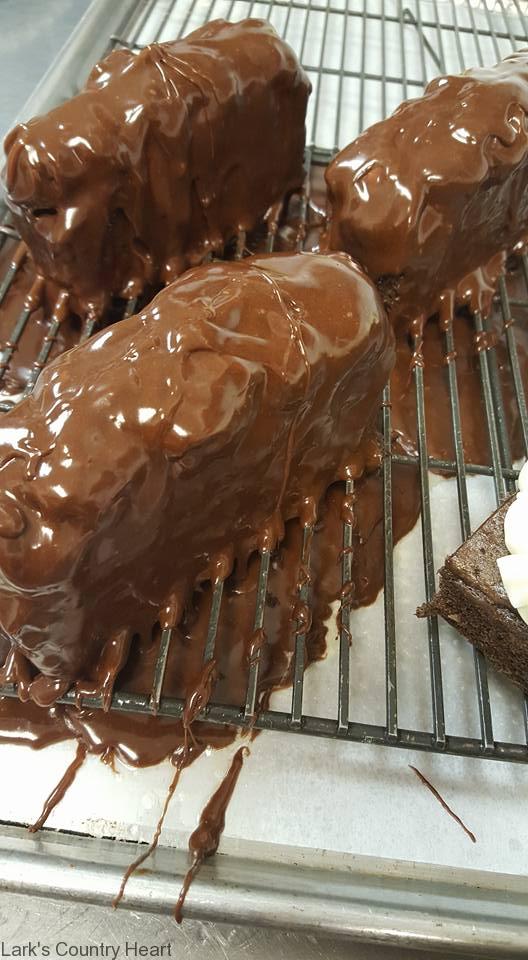 You can reheat the excess that has dripped onto the pan below, to continue using. Once the frosting has "set" I like to heat more frosting and drizzle it over the top of each Devil Dog to make it look nice and tempting.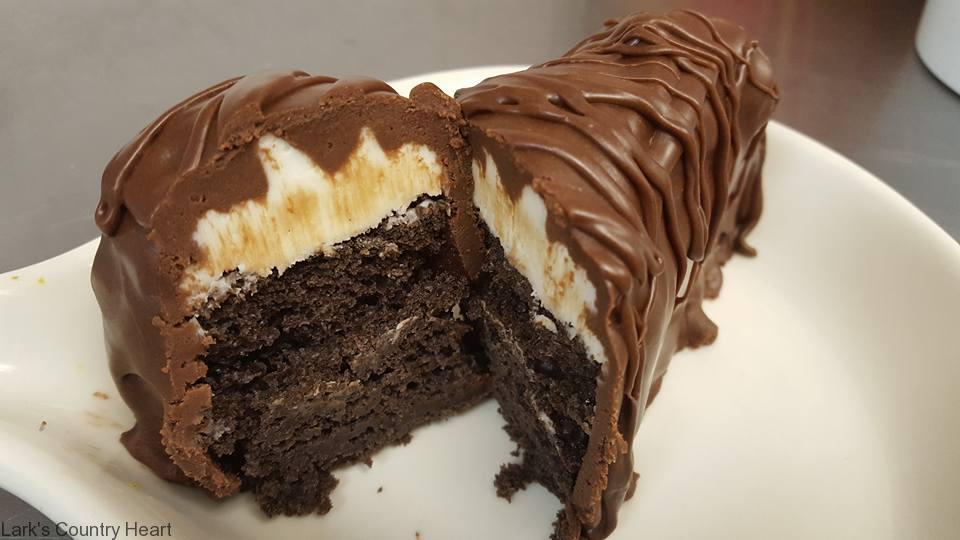 Now this is what I call a DEVIL DOG! Dive on in….they are rich…but oh my flipping heck…Sinfully delicious!
~Have a tempting treat on me!~ Lark

Print Friendly