Everywhere you look you will find Pumpkin Spice flavoring added into almost anything, this time of year. And I mean everything…. just the other day on FB I saw a video of someone adding it to the middle of a hot dog! Seriously? Yeah I am more of the kind of girl that likes pumpkin spice in my sweet treats.  As I was thinking of different creations that I could turn into a Fall dessert, I immediately though of these bars! *Now y'all can add the pumpkin spice into the cookie dough, or the filling. It's your choice. You can also mix this up by switching out the chocolate chips for Nestles Pumpkin Spice Chips. I am sure how ever you decide to make this, y'all are going to be VERY happy with the end results.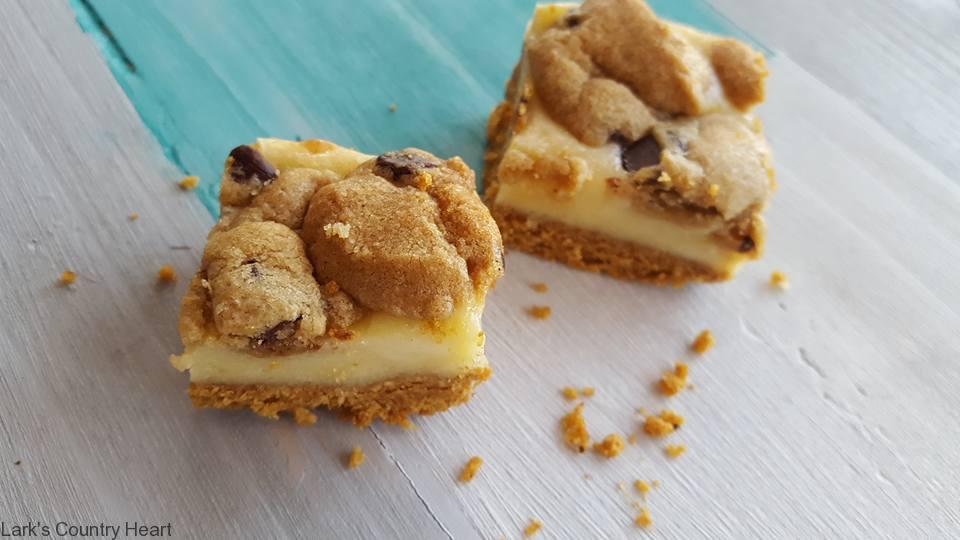 For this recipe I chose to mix the pumpkin spice into the cookie dough. It gives it such a nice flavor complimented by the chocolate chips. Not to overbearing.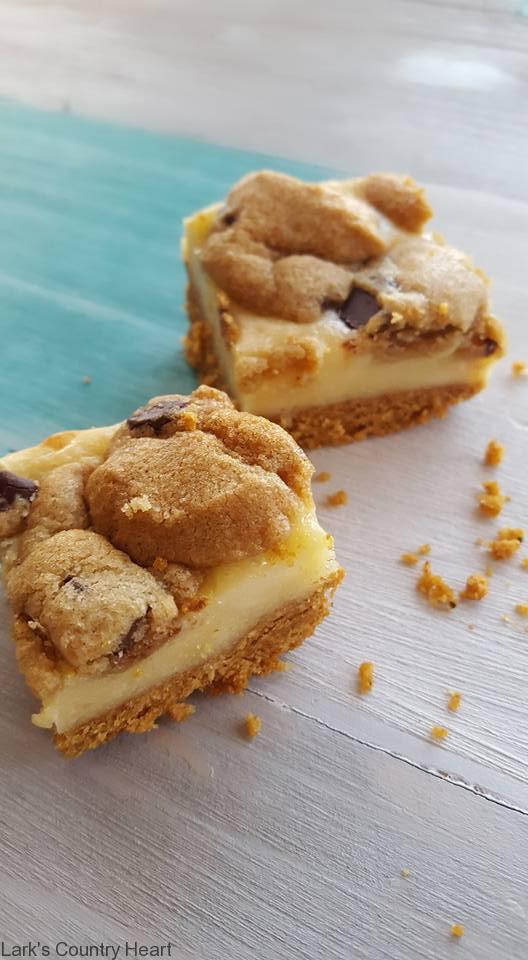 These Pumpkin Spice Chocolate Chip Cookie Dough Cheesecake Bars are sure to be a new Fall favorite for you family. Simple to make & take to any outdoor event. They are perfect for all the up coming Bake Sales too.
PUMPKIN SPICE CHOCOLATE CHIP COOKIE DOUGH CHEESECAKE BARS
---
Crust~ 
1 1/2 Cups Graham Cracker Crumbs
5 Tablespoons Butter, melted
1/4 Cup Sugar
Mix all together and press into a parchment lined 8 x 8 inch pan that has been lightly greased. Bake in a 350 degree preheated oven for 6 minutes. Set on wire cooling rack to cool completely.
Cookie Dough~
1/4 Cup Butter, softened
2/3 Cup Brown Sugar
1/4 Cup Sugar
1/4 teaspoon Salt
1 1/2 teaspoons Vanilla
1 teaspoon Pumpkin Spice
1 Cup All Purpose Flour
1 1/2 Cups Mini Chocolate Chips
Start by creaming together the butter and sugars. Add in salt, vanilla, pumpkin spice and mix together. Slowly add in the flour a little at a time. Fold in chocolate chips: set aside.
Cheesecake Filling~
1 (8oz.) Cream Cheese, softened
1/3 Cup Sugar
1 Egg
1 teaspoon vanilla
Beat all ingredients together, spread evenly over the cooled graham cracker crust. Using your fingers, pinch off small amounts of the cookie dough. Drop all over the top of the cheesecake filling. (you will use ALL of the cookie dough) Bake for 30-34 minutes. Let cool completely before cutting into squares. Store in refrigerator.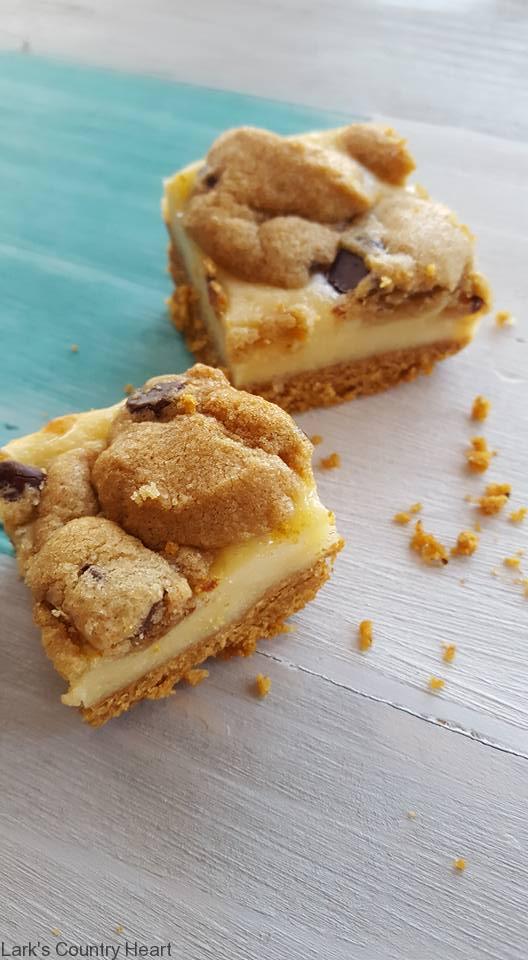 So if you havent joined in on the "pumpkin spice" band wagon, this is the best way to dive on in.
~ Lark

Print Friendly