And just like that…. it's 2018!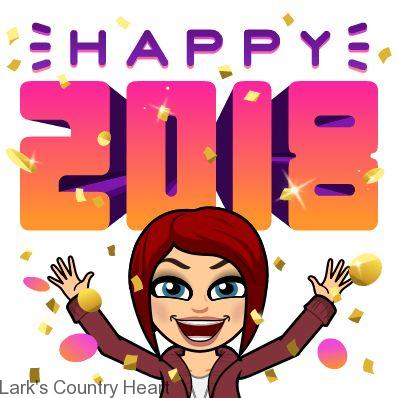 This past year has brought so many new changes,….. changes for the better. I have so many new goals for this new year, I can not wait to get started! With a New Year brings New Recipes! And why not start it off with a sinfully delicious way to serve up breakfast? ( or brunch or dinner or dessert 🙂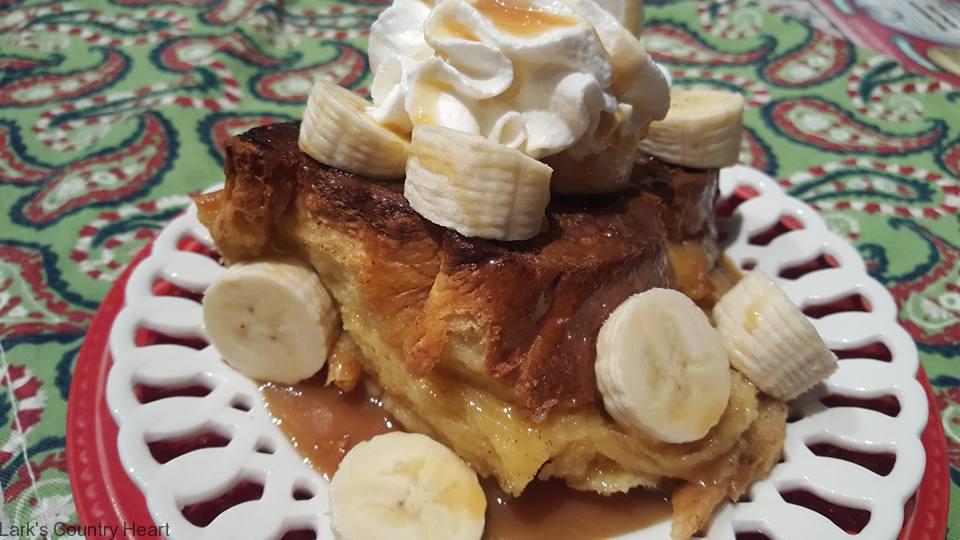 Seriously though, this is a very versatile "breakfast" casserole. Perfect to serve on a chilly morning for breakfast. If your having any guests stay over, it is the perfect dish to make the night before and have ready to go first thing in the morning.  Or serve it for a brunch or as dessert. Perfect every time.

---
BANANA FOSTERS BREAKFAST CASSEROLE

---
1 Loaf Brioche Bread
2 Cups Heavy whipping Cream
8 Eggs
1 Cup Milk
12 oz. Caramel Ice Cream Toppings
1 Cup Sugar
1 1/2 teaspoons Cinnamon
1 Tablespoon Vanilla
Whipped Topping~ optional 
Start by slicing the bread into 12-16 slices (depending on the size) place 6-8 slices on the bottom of a 9 x 13 inch baking pan that has been lightly greased. Pour a drizzle of caramel onto each slice of bread.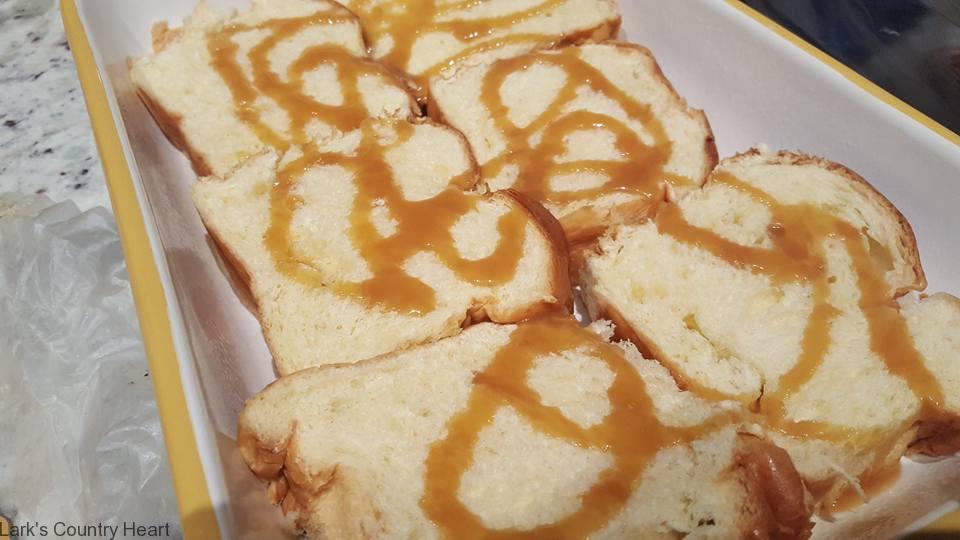 In a large mixing bowl beat together the cream, eggs, milk, sugar, cinnamon and 1/4 cup of the caramel topping. Pour half mixture over the first layer of bread in the pan. Place the remaining bread slices over top the first layer, drizzle more caramel topping on each slice of bread then pour the remaining egg mixture over top.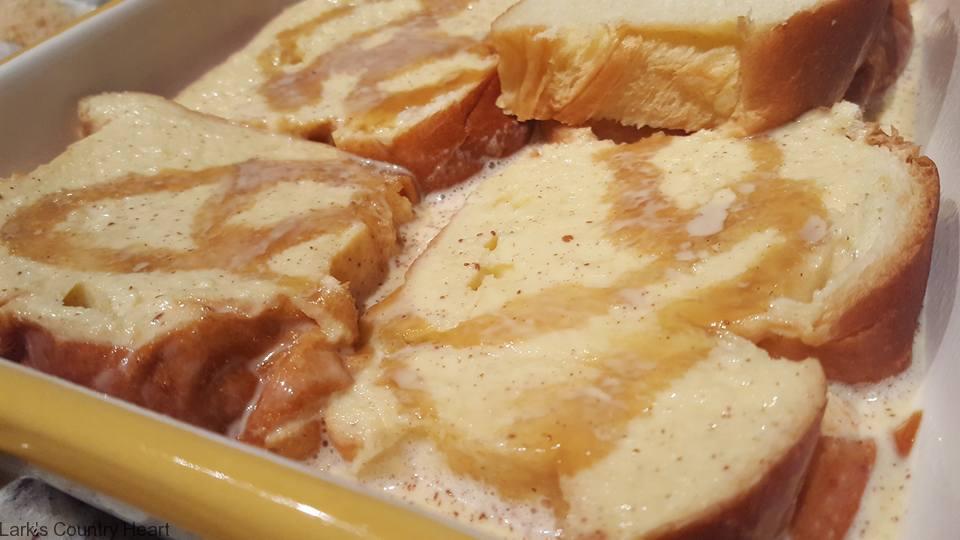 Now you need to get a some plastic wrap that can "hold" a tight seal. that why I use Press n Seal. Press with your hands onto the bread to soak up all the yummy cream. Wrap it up tight and set to chill in the fridge overnight. (or for at least 8 hours)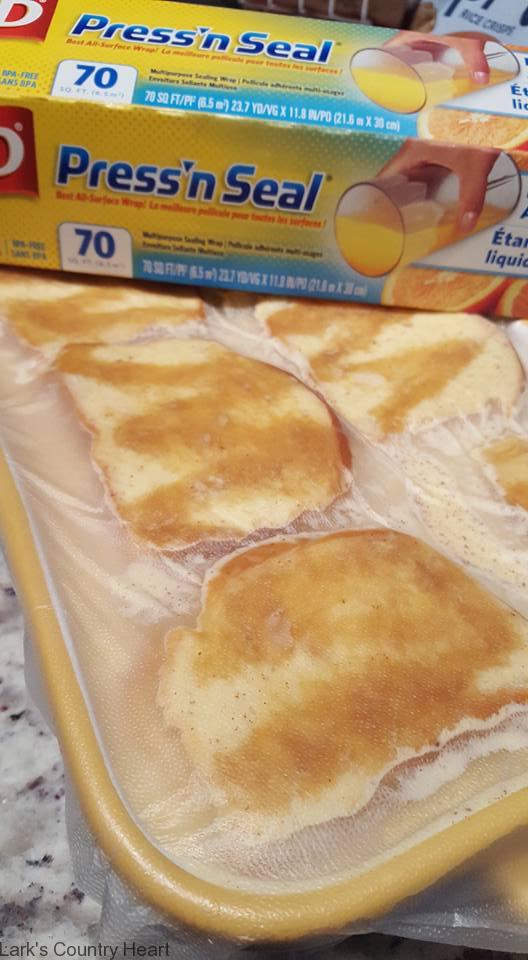 The next morning remove the plastic wrap and let set at room temp. for 30 minutes while you are preheating the oven to 350. Place casserole into oven on center rack, bake for 40 minutes. Then place foil over top over casserole to prevent over browning. Continue to bake for another 30-35 minutes. Making sure center is cooked through.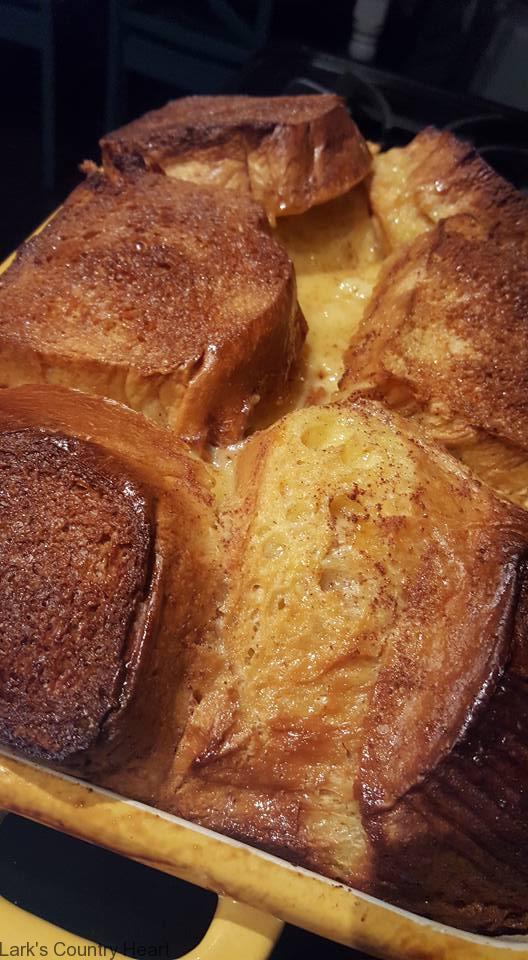 Let casserole set for 5 minutes before cutting. I like to slice all the banana's and heat the remaining caramel topping while it's cooling.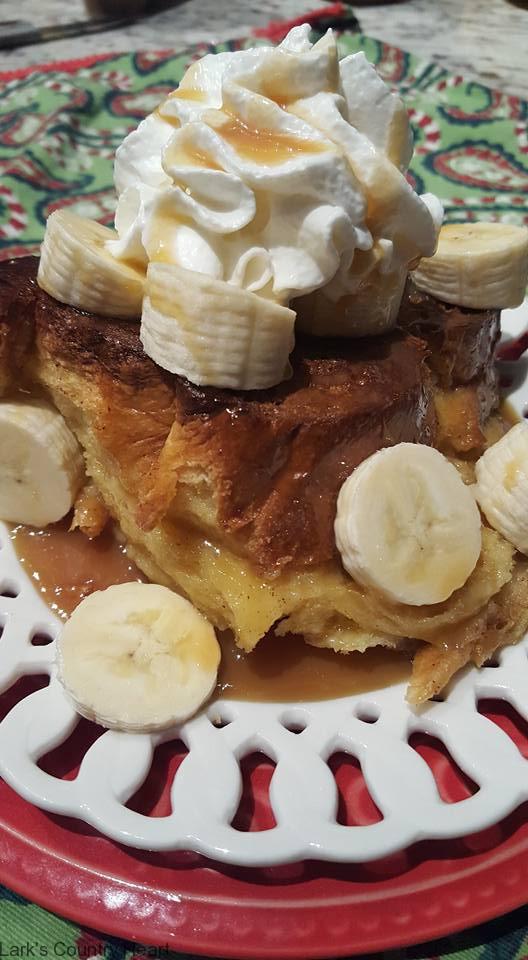 Definitely the perfect way to start out the NEW YEAR!
~ Lark 

Print Friendly