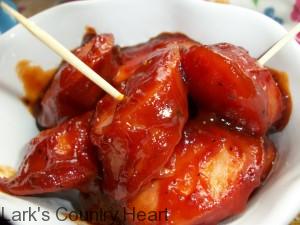 These little savory bite's just scream Summer Time back yard get together to me. You can cook these in the oven, slow cooker or even on the grill!
Tangy BBQ  Kielbasa Sausage
2 lbs. Kielbasa Sausage~ sliced
1/2 C. White Vinegar
1/4 C. Ketchup
1/4 C. Sweet Baby Ray's BBQ Sauce
1 1/2 C. Brown sugar ~packed
1 tsp. Black Pepper
Mix all the ingredients together .
You can then cook this in a slow cooker on low for 3 hours or
place into a 9×13 pan in a 350 degree oven for 45-50 minutes.
*This is great served warm or chilled.

Print Friendly