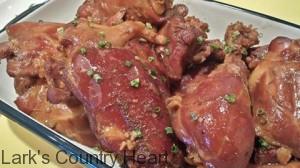 For years I have loved the taste of Asian style cooked chicken. I make sure that when I frequent restaurants that have it on the menu I order it.  So it is odd to me that it has taken me this long to figure out the recipe. This recipe is now a staple in our home. The use of a slow cooker makes this dish a great one to make on days I will be away from the house. Give it a try and see what you think.

Slow Cooker Asian Style Chicken
1/2 Cup Yoshida Sauce
1 Cup Honey
2 (12oz.) Can of Coke a Cola Soda
1 Cup Brown Sugar~ packed
1 Cup Aloha Soy Sauce
1-1/2 tsp. Ground Ginger
3 TBSP Minced Garlic
1/4 Cup BBQ Sauce
2 tsp. Black Pepper
10-12 Skinless Chicken Thighs or Drumsticks
Green onions, Sesame Seeds for garnish
In a saucepan combine all ingredients together except the chicken. Stir over med.-high heat until sugar is dissolved and mixture starts to thicken. Lower heat and continue cooking for another 6 minutes.  In the mean time spray the bottom of your slow cooker with nonstick cooking spray. Place chicken in the bottom of cooker. Once the sauce is cooked, pour over the chicken. Cook on high setting for 5 hours.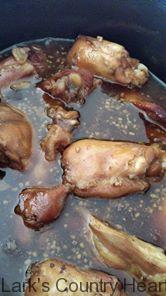 I like to serve this over a hot bed of rice, and pour a little bit of the sauce over top.  It is AMAZING! ~ Lark

Print Friendly